Working Women Welfare Trust (WWWT) is an EAD registered, PCP certified, non-profit organization established in 2001. The organization has directed its efforts towards the betterment and welfare of women who are compelled to assume the role of bread winners (either solely or in part) for their families. With the passage of time the organization's struggle for its cause has taken many forms. On one hand the trust is trying to create employment opportunities for the under privileged rural women whereas on the other hand it raises voice for the betterment of working conditions of those who are already in jobs of various sorts. Working Women Welfare Trust organizes Workshops, Seminars, Discussion forums & Press Conferences and enhances the women cause. We believe in women empowerment with knowledge that instills ethical and positive values.
Provision of Legal Rights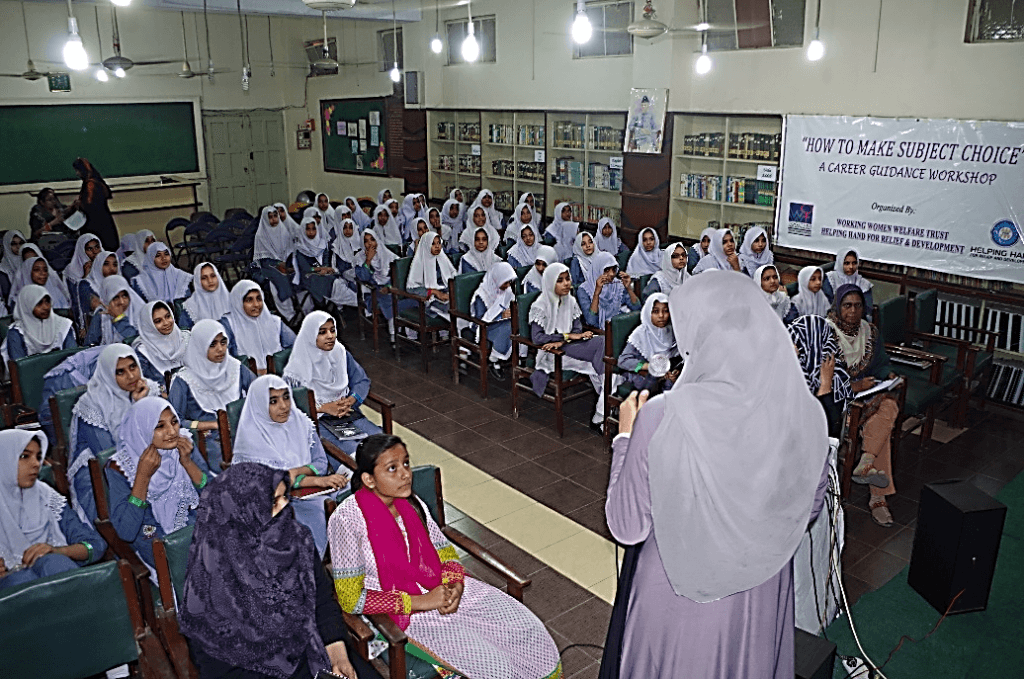 Emphasizing Safe Working Conditions
Under its Advocacy program Working Women Welfare Trust has set up a task group comprising experts and working women from different fields 
The goal of the program is to provide income-generating opportunities to under-privileged
women at their doorsteps to save them from middlemen exploitation
Professional Development Program
Girls seeking professional education today are working women of tomorrow. We are helping
young minds
We offer variety of services to community in time of need including mental health rehabilitation in Covid Era
Self-reliant Village Women
Families uplifted from Poverty line
young girls got free trainings
Organized a wonderful women entrepreneurs exhibition.
We achieved our target to promote women startups and small entrepreneurs, helped them in building networks, and brought wider exposure to them.
Our journey to empower women in every field of life and economic empowerment of Pakistan is beyond the limits. Our wishes and support will always remain with you in every step you take.
Working Women Welfare Trust wonderfully celebrates international women's day along with the Femencia' 23 Certificate Distribution Ceremony after the successful completion of Femencia'23 Exhibition for Business women.
We believe in supporting and promoting women entrepreneurs and in this way contributing to building Pakistan's Economy in the current socio-economic crises.
The trust also Embrace Gender Equity as Equality emphasizes the provision of the same resources or opportunities to everyone, Equity leads to justice and allows the shaping of customized remedies to fulfill marginalized women's particular requirements.
#workingwomenwelfaretrust
Working Women's Welfare Trust wants to draw attention to the severe economic oppression of Pakistani women through a press conference on the occasion of International Women's Day. 
On behalf of the Trust Ms. Rehana Afroz, Vice President Working Women Welfare Trust, Retired Special Secretary Government of Sindh and former Project Director Gender Mainstreaming Project (UNDP) Ms. Naseem Bukhari, CEO Beherry's Mineral Water Ms. Yasmin Ghayas, Social Worker and Broadcaster Dr. Saira Bano. They addressed those in power, especially the government of the time, media houses, welfare organizations working for women, NGOs and other institutions, drew attention to how helpless our women have become in front of the storm of inflation and are forced to live a life of poverty.